Who never thought that sales teams came from March and marketing teams from Venus…?
Quarrels about actions carried out, quality of leads, CRM adoption and so on… So, marketing and sales alignment, mission impossible?
According to the Adetem B2B Club morning exchanges on June 7th 2018, it seems that no, Alignment between marketing and sales is not impossible.
Stakeholders all agreed that this alignment is even more necessary now that Customer experience has replaced Product features within our Marketing mix.
Adding to this the growing pressure on  marketing  now required to demonstate their contribution to the Sales force.
So for that to happen, a new form of collaboration must emerge.
Sales and marketing alignment, KesaQuo?
According to Mathias Saint-Jean, Head of Marketing Programs, Cegid, it is a question of putting two driving forces at the service of the customer, respecting the balance of each and creating spaces for collaboration. As sales teams do not have the ability to manage long sales cycles on their own, it is essential to involve marketing teams: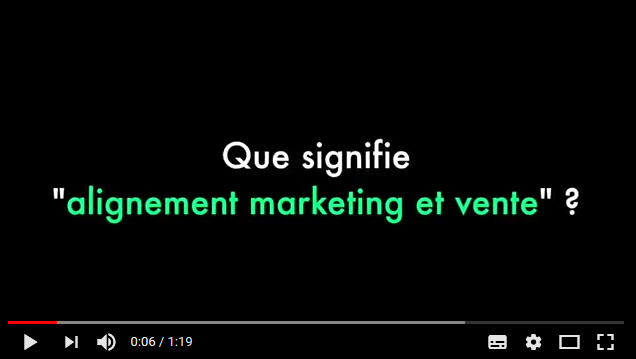 (Video in French only)
Roland Koltchakian, Sales Development Manager, Oracle Customer Experience, mentions a continuous process to ensure that both teams share the same objectives, KPIs and processes.
It is therefore necessary to have a common vision of the strategy and operational plan, to agree on the number of leads to be processed,  and to share common repositories.
Finally, Guillaume Ferrand, Marketing Director, IBM France, makes an analogy between Marketing and car headlamps, which make it possible to illuminate an ever more winding road (think buying route).
–
Is culture required to change prior to sales and marketing alignment?
As customer experience is now at the heart of any company's strategy, a transformation has already begun: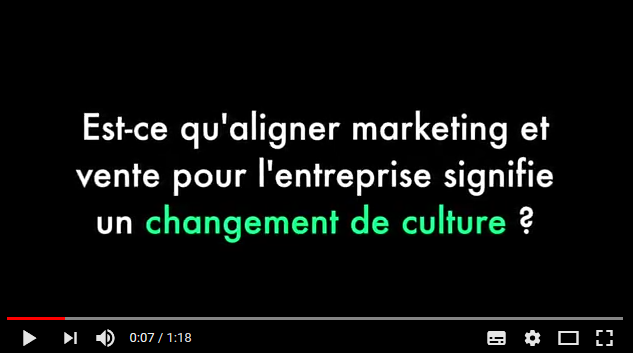 (Video in French only)
While marketing teams are often independent from sales teams, the first step is to co-construct, validate and implement marketing plans together in order to better focus on the customer and avoid the effect of "sudden marketing" on the Sales force. According to Mathias, it is also a question of understanding the constraints of each individual, co-constructing, adapting, so that the effort of concretization carried out by the sales department remains feasible.
The implementation of common standards, mentioned by Roland, is also a step not to be overlooked.
I can only agree with this, when, to begin with, I sometimes see marketers disagreeing among themselves on the definitions of the stages of the buying process: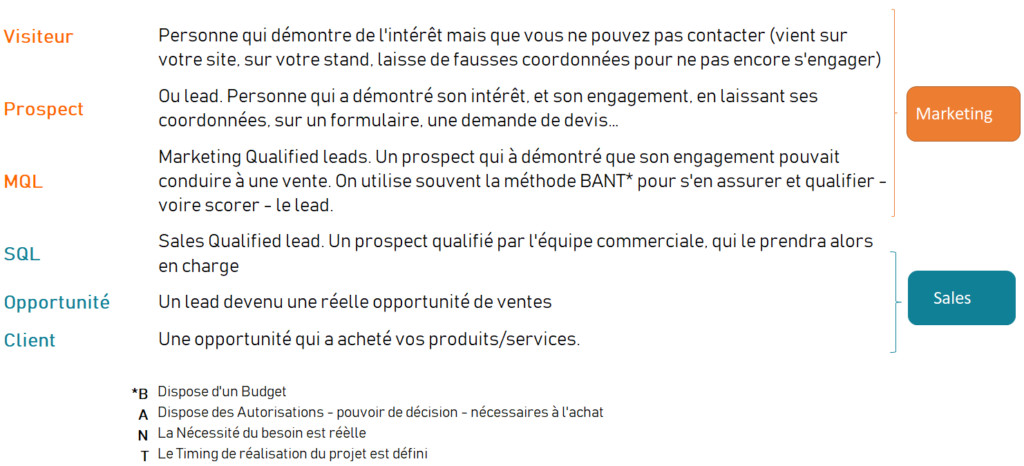 The increasing use of buyer personas also contributes to the development of common repositories.
For this, Marketing Ops does wonders!

As a matter of fact, a deep understanding of our  buyers identity is a fundamental element. And, as such, Buyers Personas are part of the marketing arsenal to align the efforts of both teams. Another use of personas is to help calculate your lead objectives.
According to Roland, who also wears a commercial cap, the Sales team prevails over everything. They are the principal internal Marketing customer. And the kindness in each team must allow both teams to collaborate in this sense. I am personally very sensitive to this position. I believe that one of our primary roles is to serve the sales force and provide them with the necessary pipe and help growing customer engagement. And demonstrating our contribution to the company's business will help us gain the legitimacy we are so looking forward to.
So, is performance at the heart of marketing and sales alignment?
No need to say that lead generation, a key indicator of marketing performance, is a subject of discussion. Salespeople complain about the quality of leads we provide and we complain that salespeople do not process the leads we have qualified and handed over to them.
Marketing that acts on the upper part of the funnel, the "ToFu or Top-of-Funnel", (see above) can now use tools and data to better understand purchasing processes. We can help sales people prioritize to qualify, validate and sign faster. And everyone is wondering about the "Medium of Funnel" or how a collaboration of the 2 teams could further improve its treatment. Roland proposes to debate about what the life cycle of a lead is. Since sales have neither the means nor the time to process all requests, they must rely on new tools to better prioritize. As such, digital has revolutionized performance measurement and will impact the collaboration of both teams: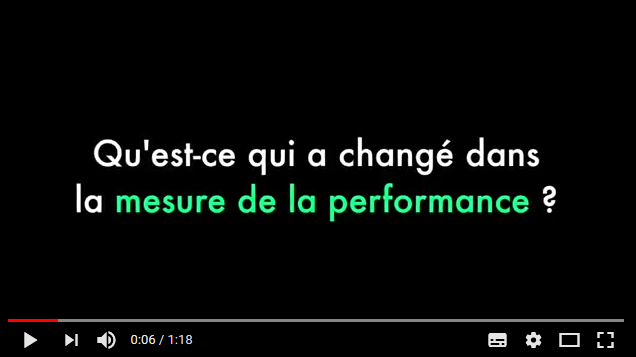 (Video in French only)
Finally, to evaluate marketing performance and strengthen marketing and sales alignment, Mathias proposes to measure leads qualified by marketing and accepted by sales. Personally, I also measured the number of days between the time the MQL was passed to the Sales Representative and the time it was read by the latter. More to fuel the discord….
However, this allows:
1/ to verify that Sales have the bandwidth to properly process leads,
2/ to measure the "confidence index" of sales for MQL… (Leads that are never opened or opened within 3 weeks is not a good sign) and finally
3/ to initiate the discussion between our two teams on the quality of leads we deliver.
Mathias therefore offers to relay on tools to reorganize processes, and mentions – as an example –  the acquisition of marketing automation that enabled them to gather behavioural and geographical data from CRM to understand the purchasing cycle and understand the contribution of marketing.
Any last advice for the road?
As far as Guillaume in concerned, "keep in mind what you want to do, where you want to go and do not scatter".
"Let's get together at the service of the customer, and use what we have in common to move forward" according to Matthias
And last advice from Roland, "don't get discouraged, encourage benevolent pedagogical work, find pockets of creativity to gain in agility".
The balance is fragile, nothing is ever achieved. To ensure marketing and sales alignment, the quality of exchanges and human relations, with a focus on the customer experience, will make the difference.
To continue the discussion : Founding steps for the alignment of the sales and marketing teams according to HubSpot.
See you soon!
Béatrice Loriot – + 33 6 81 07 34 41 / + 34 680 907 987