Do i really need to have a content marketing strategy ?
The answer is clearly YES !
Emmanuel KAHN, Director at Opinion way, presented @ Adetem B2B club , their survey results on Content Marketing practices. (Survey to be published in January 2017). According to this survey, carried out among 300 marketing departments of companies > 100 employees:
61% confirm regular marketing content production,
55% consider it is beneficial on the short term,
37% allocate more than 10% of their marketing budget to content marketing,
And 55% intend to maintain identical resources for 2017 and 33% to increase them.
The trend for 2017 is therefore increasing. So, if everyone wants to do it now, how to do it well, how to do it better?
The speakers of the roundtable shared with us the conditions for success:
Of course we talked about coherence with the brand, quality, regularity, originality, diversity of channels, authenticity (no advertising content), and reciprocity. But above all the editorial content – Or content marketing – should have only one goal : develop the client's business.
ENRICH THE CONTENT THROUGHOUT THE SALES CYCLE
It is important to ensure that the prospect accesses the right information throughout the sales cycle, and this can be easily done with automation marketing tool (Marketo, Pardot, …) .
We can start offering content generic marketing, such as simple articles, a few infographies, enough to give the bases. Then continue, in a second phase, with more detailed content, more « indeep » content like smart paper, webinars, or even lightened white paper. Finally, during a third phase, provide technical and concrete information, which will give the prospect sufficient knowledge and confidence to contact the company.
CUSTOMISED CONTENT MARKETING!
In this regard, the testimony of Nathalie Taieb – Chief Operating Officer European Channel Group @ XEROX – is instructive:
Xerox has set up personalized and individualized content, enabling the distributor to develop its commercial performance. Every quarter he receives a magazine which is « just about him ».
It starts with a personal letter, followed by selected editorial content (particular lighting according to current events), his reporting data (the amount of his sales over the last 4 years, his performances, his market shares and other indicators), chosen promotions, and possibly strategic information that the company would like to bring to his attention.
The results are awsome !
4M euros of additional income in the first year
1M € profits
+3% growth of activity or +1500 products sold
47% increase in orders
But also
100% satisfaction
Enhanced communication and enhanced trust
Alignment of all parties on reported figures, now deemed "reliable"
Budget renewed by the Finance Department for 3 years
European Program extended worlwide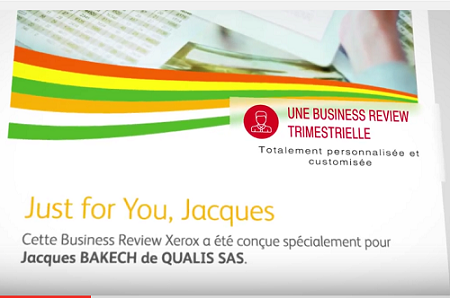 See the program  "Just for you" on youtube
–
IS YOUR HR DEPARTEMENT USEFUL?
The testimony of Geoffroy de LESTRANGE, Product Marketing Manager EMEA @ Cornerstone OnDemand – publisher of solutions for integrated management of training and talents – takes us in the same direction.
He does not hesitate to ask a voluntarily provocative question to the audience: Who considers his HR department useful? Faced with the few hands raised, he explains that the content marketing that he oversees and validates must lead the HR departments to question their role as a business actor: How to better help teams,  support their professional development, win credibility, etc.
As a conclusion, he believes it is necessary to measure the ROI, but it is not the ultimate goal. Beyond the ROI, we should measure the impact on the company : If the transition to online training has saved xx million Euros to the company, what is the emplyee satisfaction, their attachment to the company, has the HR gained credibility?
As in any other marketing activity, the user experience is the key to success.