This October 4th, the Adetem B2B Club proposed a behind the scene tour of  La nuit du Marketing B2B by handing over to 2018 juries and winners.
During an event co-animated by Valérie Geneyton, Sophie Lavaur and myself, the Club B2B welcomed the winners of La Nuit du Marketing 2018 Adetem in Elephant at work premises :
Grégory Michaud, Manitou Group, Gold Award and Marie d'Avezac, Kintessia, Silver Award, shared the recipes of their success. 
---
Valérie Geneyton, member of the Jury, kicked it off  raising the veil on the process and sharing  best practices to optimize one's candidacy:
1. From the application to the award 
Each application had to prove:
The ability of the marketing initiative to challenge existing established models, to take risks,
Its impact on the sustainability of the product or brand in the future,
And performance with indicators and supporting data.
After the examination of 18 files leading to a pre-selection, the 15 members of the jury  gathered  and listen to the selected candidates'  7 minute pitch.

and finally choose the 3 Laureates, Gold, Silver and Bronze.
2. How to make a difference beyond these 3 criteria?
Valérie shares some hints to remember for a successful file and pitch:
Propose an angle and a real bias. Explain the why and makes the difference.


Do not mix up marketing initiative and communication campaign.

We say it by experience…



Focus on the essential, as 7 minutes is really short. Don't hesitate to do some reharsal.

Have an impacting project, and share some indicators.

Be enthusiastic and do not hesitate to surprise the jury.
---


And now, close up on the winners!
GOLD WINNER: BREAKING THE CODES OF A GLOBAL PRODUCT LAUNCH
Grégory Michaud, Digital Marketing and CRM Manager, presents the project:
In 2017, the company wanted to launch its new MRT, understand telescopic rotary cart. And here we go in the thick of things: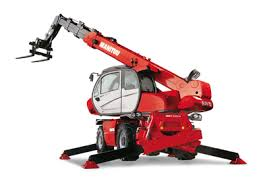 How to launch globally, in 4 months, with a budget of 100 000 €, a product as imposing, (and dare I say so little sexy)?
Question from the audience : Who are the buyers?

Grégory's answer:
Construction  and equipment rental companies. In this case, the operators are not the decision makers.
Gregory then shares the context at the time:
This launch must be done through a network of dealers all over the world,

As we have seen, the timing and the budget are rather tight for a global product launch,

Manitou marketing is more oriented "Products", not yet quite "Customers",

Internal speakers are experts, but will they be good speakers?

And roughly, the beautiful baby MRT weighs 21 tons, is 3 meters high and 2.5 meters wide.

How to innovate in this context, establish our position as leader and engage our dealers network?
The chosen angle and the bias were as follows : organize a memorable event, live and broadcast live on the web, giving the opportunity to dealers to organize micro local events.
Gregory then shares the ingredients of the launch plan:
Recruitment of an audiovisual agency,

Creation of numerous contents in different languages, videos, music, communication kit for distributors,

Publication of a landing page  incrementing as contents is made available, 

Posting of LiveManitou Channel on Youtube,

Launch of an Adwords campaign,

Training of internal speakers,

Communication on social networks including the broadcasting of teasers,

A keynote of 30 minutes ending with the impressive stage entrance of a MRT (I remind you the size of the machine ..) on which was installed a pianist and his piano. (the pianist was playing of course 🙂 ).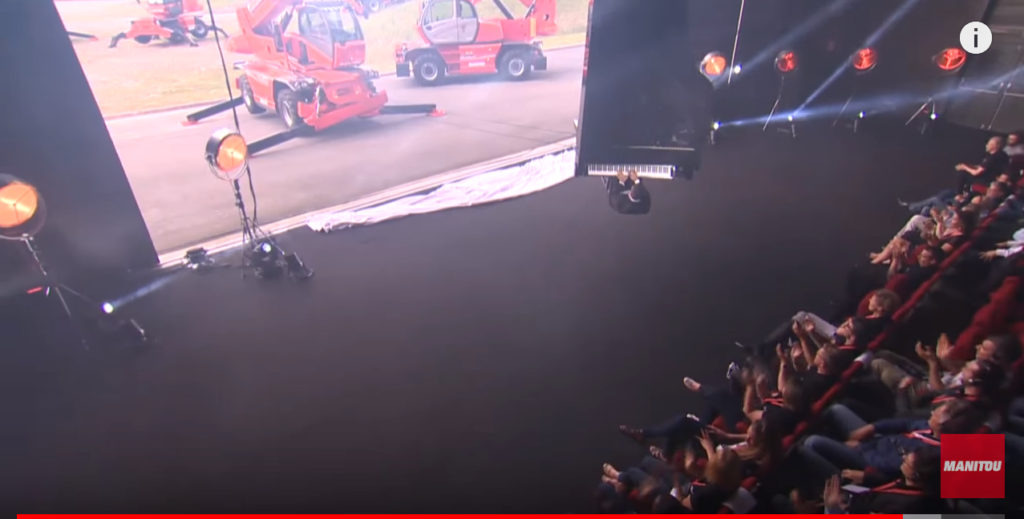 Not without having made the buzz in town beforehand: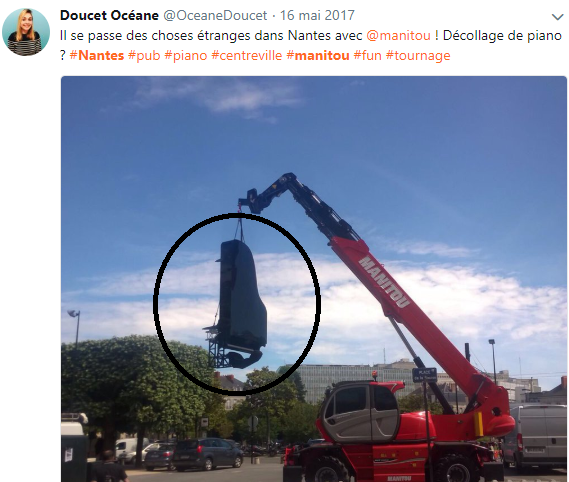 QFTA: What were the main challenges you had to face?
Grégory's answer :
The realization of the scenography was the first one. It took 2 months to create the right mix between Direct and Video. The second challenge was to allow Internet users, behind their screens, to have the same experience as the audience in the room. For this we broadcast the event live in 3 languages, on different channels, thanks to interpreting booths. This meant 3 streams multiplied by the number of distribution channels. It was very complex and rather risky. But we succeeded. However, if I had to do it again, I would think of an alternative solution.
On the performance side, we were extremely pleased with the results:
11,000 live internet users

60,000 views on YouTube

52,000 views on Facebook

+15 countries connected

142,000 people affected

+ 2,000 shares

Downloads that followed the campaign were more numerous

We had many leads to follow

Sales usually done in 12 months were in 9 months
QFTA: was your application an internal marketing dynamic or a corporate desire?
Grégory's answer:
It was clearly a corporate will. From a strategic point of view, there was a unique opportunity to seize because we have few pretexts to apply. Preparing an application was not a common practice within the Marketing Department and required some preparation time. The pitch was short and intense, and took place in a very benevolent atmosphere.

QFTA : what difference did it make to get this award ?
Grégory's answer:
The impact has been very significant.
Internally, the image of marketing has been changed and has made it possible to unite around the success of a team and the group. Externally, we are demonstrating business recognition that opens a new era at Manitou.
---
SILVER WINNER: CREATING GROWTH DRIVERS IN INTRA-GROUP BUSINESS
In April 2016, BNP Paribas Leasing Solutions invites some employees to brainstorm, during a Jam Session, about the risks the company is facing with the Uberisation of their businesses.
Marie d'AVEZAC, Head of Kintessia, presents the project.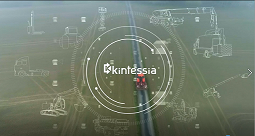 Marie and her team then launched the idea of a sharing platform between professionals dedicated to agricultural, construction and transport equipment. With a double impact: for professionals, who can make their property profitable and adjust the charges to real needs, and for the environment, this optimizes the production of equipment and participates in the circular economy.
The strength of this business model is to generate incomes that does not consume capital. They are generated by transaction fees, paid options and advertising.
Marie comes out of the Jam session without imagining what will happen next. However, in September, she joined the People's Lab, the company's intrapreneurial accelerator, whose mission is to support employees who have an innovative idea and to transform it into a concrete project within the group.
Then the adventure begins with the presentation of the project to internal investors who validate it in February 2017:
March 2017 : choice of the supplier to develop the market place
April 2017: creation of the KINTESSIA brand – collaboration with a design agency,
May 2017: design of the web pages and development of the graphic charter,
July 2017: delivery of the models of the site,
Sept 2017: Kintessia V0,
January 2018: launch of www.kintessia.com.
To lead all this appropriately, Marie tells us that it was necessary, in parallel, to learn to communicate a vision, to engage a team in a project and to instill an entrepreneurial mindset.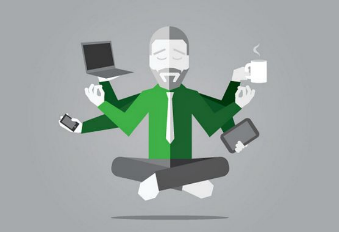 QFTA: What has been the support of the company on a daily basis?
Marie's answer:
The setting was very favorable. I was quickly replaced in my core business and the management of the company supported this project all along. I enjoyed a lot of freedom while benefiting from internal resources – Purchasing departement framing my choice of suppliers, Legal services setting the boundaries, etc.- and the network of the group. Our major assets to successfully develop this new service are the knowledge of the business ecosystem + an ability to expand into other markets and countries.
QFTA: What recommendations would you give prior embarking on such a project?
Marie's answer:
First of all, you have to DARE. Then, you have to be agile and advance in Test and Learn mode, without waiting for everything to be 100% ready. Do not hesitate to test the market for real and see how it reacts. Finally, use collective intelligence that brings together creativity, thinking skills and problem solving.
On the performance side, Marie shares great results:
After 6 months in a pilot region:
26 verified and validated advertiser accounts,

550 ads in rows,

Many press releases,

More than 2 million impressions on YouTube in 3 months and a video with more than 300,000 views,

An intrepreunarial project that required less than a year of development, and less than 2 years from idea to reality.

QFTA: what difference did it make to get this award ?
Marie's answer:
First of all, the external Com effect was immediate and there were many articles about Kintessia. It is a recognition by the profession that reinforces our credibility and also allows us to access different networks.
Internally, we were happy and proud, and we are riding on victory. For example, we use a price tag in our email signature. We had refrained from applying in 2017 to better meet all the criteria in 2018, and we did well to wait.
And even if we were a little more used than Grégory to pitch, all the pitches are different. We decided to surprise the jury by pitching with a client. We were quite enthousiatic while leaving the session.
---
Thanks to Gregory and Marie for sharing their experience with us. It was very inspiring. So are you now ready for next year ?
Want to know more, here are the full videos :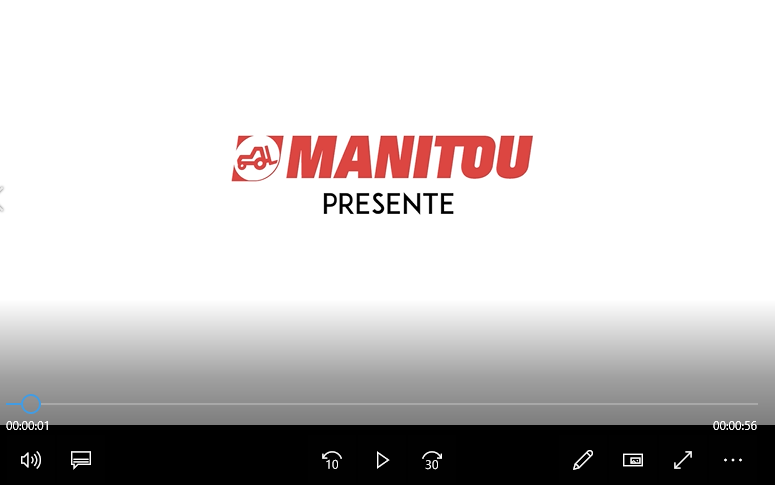 A bientôt !
Béatrice Loriot – + 33 6 81 07 34 41 / +34 680 90 79 87 – Bloriot@beautifulnumbers.fr