Marketing Directors say they can't prove the contribution of their Social Media strategy.
According to Hootsuite 2017 social media barometer, 67% of respondents believe Social Media will increasingly contribute to the company's financial results.
Another study indicates 38% of marketers believe indicators put in place do not measure marketing contribution.
Marketing teams do not know how to proceed, nor what indicators to use because the performance of a Social Media strategy can be measured well beyond the generation of leads and ROI.
Social Media strategy responds to a multiplicity of objectives:
Sales increase,
Customer loyalty,
Awareness
Crisis management
And it all starts with planning!
Define your Social Media strategy's objectives when preparing your marketing plan.
As I mentioned in a previous blog post, start benchmarking yourself, in order to have a starting point to refer to. Look at your "actuals", that is to say what you really achieved on the previous exercise, both in terms of budget, and results.
Depending on your organisation maturity, you may consider benchmarking your competitors and decide to compare your digital strategy with the other marketing strategies deployed.
The choice of indicators is therefore paramount.
Marketing performance only exists in the light of objectives previously set by the company. Define S.M.A.R.T. objectives.
Some indicators to consider: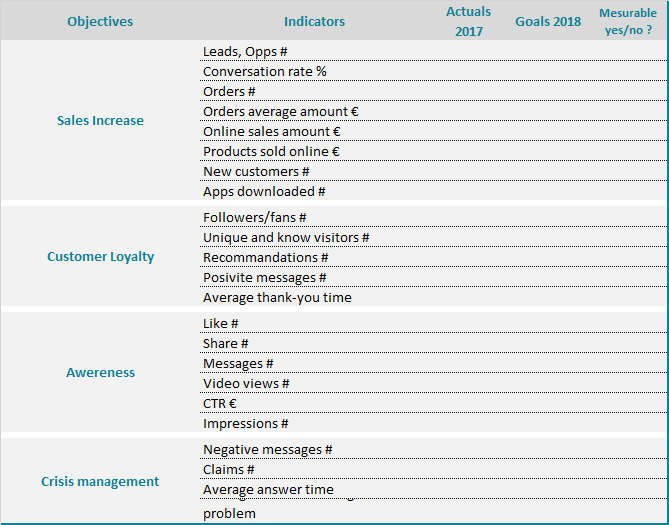 And now?  Will you be able to measure them?
Today, most platforms are natively equipped with their own reporting. The blocking point is that they provide  a single view of your performance. In order to pilot your performance, it is necessary to connect your indicators to each other. 

Béautiful Numbers help you create the global view you  need to pilot your Social Media performance. We will guide you through the process of selecting the relevant marketing indicators, and we will create your dashboard.
Click on the image to interact with the dashboard and get more information about our methodology,